Did you know that Artificial Intelligence (AI) and digital transformation via data science is projected to redesign the infrastructure of businesses around the world and provide substantial competitive advantages?
And that's not all! In 2019, we saw an increase of37% in enterprise use of AI and digital transformation. By 2021, AI and digital transformation will reach incredible heights in generating a business value of $2.9 trillion with 6.2 billion hours of employee productivity.
Together, Artificial Intelligence and digital transformation combined with a human workforce deliver analyses, insights, and predictive models to optimize their internal and external functions. We're going to look at Artificial Intelligence and digital transformation and their role in the IT second, our daily lives, and the global economy.
Artificial Intelligence and Digital Transformation via Data Science
Digital transformation continually changes and reinvents the way businesses conduct their operations. They leverage digital technology to create new or modified business processes, business culture, and existing customer experiences. Businesses aim to meet the continuously changing needs of both the customer and the market.
The introduction of AI changes the entire dynamics of how a business can introduce digital transformation into its structure. AI is part of digital transformation. AI can help your business become increasingly innovative, adaptive, creative, and flexible than before. Moreover, AI helps businesses gain more new customers, mitigate risks, and increase their revenue.
A study discovered that 98% of the participants who had made AI a part of their digital transformation strategy stated that it helped them earn extra revenue for their business. The same study also highlighted the impact of machine learning in digital transformation, stating that it drastically reduced the average time a person spends on everyday activities and improved decision making while reducing room for mistakes and errors.
Another study reported that 71% of the participants stated that AI could enhance business efficiency, whereas 59% of the participants stated that it could improve scalability. Additionally, 55% of the participants stated that AI could predict customer behavior and help them improve the design and function of their products and services.
If you run a business, you need to incorporate Artificial Intelligence into your infrastructure to aid digital transformation. Let's learn why.
How Can Artificial Intelligence Aid Digital Transformation?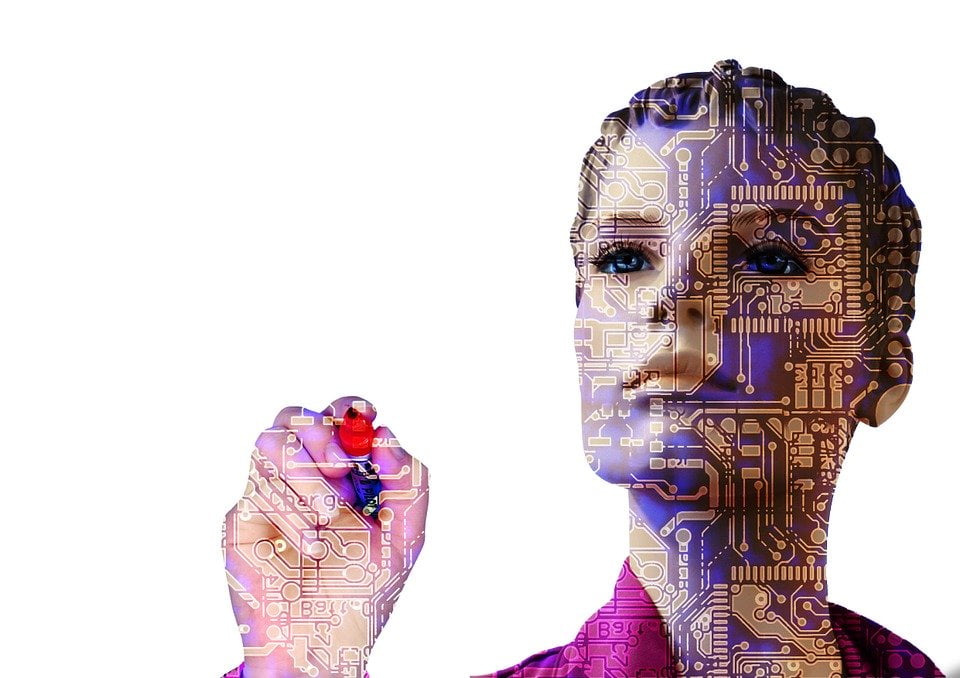 In 2022, global spending on technologies that will aid digital transformation is set to reach $1.97 trillion. In the last four years, AI implementation increased by 270%. Has your business realized the importance of implementing AI with digital transformation? If you said no, you're not alone.
Most businesses have yet to realize the benefits of AI and digital transformation in helping them achieve complete digital transformation. AI can optimize processes and derive insights to help businesses improve their bottom line.
With AI aiding digital transformation, businesses can make more informed decisions regarding critical matters. Here are three ways AI aids digital transformation:
Dynamic Analytics
The right analytic tools and data can enhance decision-making. AI can process more 1,000 data points in real-time without the need for human intervention. For instance, if you're shopping online, you'll only receive offers related to the item you have been searching for presently, thus providing you with a more personalized online shopping experience.
Through AI, you can build models with predictive analytics with the ability to test them several times and at a quicker rate than a person can. This can make your entire digital optimization process more effective, especially in terms of data science abilities via automation.
Economies at Scale
AI learns from existing data and patterns at an impressive speed, which then allows it to scale processes faster than your employees can. Data analysts might take several months with models, whereas AI can do it within a few minutes.
Faster Digital Processes with Data Science
AI can analyze data faster than a person can. AI can streamline and expedite several digital processes at one time. AI can also figure out several different relations in the datasets that may help your business uncover new opportunities to increase revenue.
To sum it all up, AI can help your make informed decisions and drive digital processes at scale. AI is an important component of the digital transformation process. Combining AI and digital transformation can achieve impressive results in the IT sector, daily lives, and the global economy.
Artificial Intelligence and Digital Transformation's Role in the IT Sector
AI and digital transformation have had a positive impact on the IT industry and its various processes. Since the IT sector revolves around software, computer, and data transmissions, it increases the importance of AI and digital transformation within the industry.
It enables the IT sector to build secure systems for storing customer and strategic data. AI allows them to design a layered security system and uses advanced algorithms to determine potential data breaches and threats while providing them with the necessary solutions and provisions to prevent gaps in security.
Since AI uses several different algorithms, it assists programmers to write better code and overcome bugs and errors in the software. AI also offers suggestions for coding to increase productivity and efficiency and provide developers with a clean and error-free code. AI analyzes the code to provide valuable suggestions that can further improve productivity while reducing downtime in the production phase. AI also automates backend processes to save money, reduce human intervention, enhance productivity, and learn from previous errors.
AI can also predict issues during the versioning phase of software development and allows developers to resolve issues as they occur instead of waiting to improve the application at the last phase and assure quality assurance.
Lastly, AI optimizes host serves to improve operations and customer service. AI can also accommodate the demands of the IT sector and provide the seamless incorporation of technological functions with existing business functions.
Artificial Intelligence and Digital Transformation's Role in Daily Lives
You don't realize it, but you're using AI each day. When you go on Facebook or Twitter and watch and share a certain type of content, you discover a recommended post the next day, which aligns with the type of content you enjoy seeing and reading about online.
If you use Apple's Siri or Google Now, you're using AI through digital assistants. Digital assistants help you perform several different tasks, from checking schedules to looking up something for you on the internet. They continue to learn from continuous interaction with the user.
Have you ever used a smart reply in an email? If you have, you're using it AI. It provides you with options based on the content of the email. When you're on Google, AI is doing all the work. You don't even need to type the whole phrase or question out, as it makes recommendations.
Artificial Intelligence and Digital Transformation's Role in the Global Economy
AI has the potential to incrementally add 16% by 2030 to the existing worldwide economic output. Another report stated that between now to 2030, AI applications and technologies could increase the GDP around the world by 14%.
Automation of labor and innovations in services and products both influence the projected increase in GDP. AI will also cause disruptions for businesses, workers, and economies due to the considerable expenses related to managing labor-market changes. The economic impact will not happen overnight, but will gradually shape the global economy.
Conclusion— the Benefits of Data Science Are Greater than the Risks
Artificial Intelligence and digital transformation play an important role in the IT sector, our daily lives, and the global economy. You may be hesitant to introduce AI right now, but doing so can help your business grow. Don't fall behind the rest of the businesses that are embracing a digital transformation by adopting AI. Your company will grow with AI; you can enhance customer experience, streamline processes, reduce errors, and mitigate risks.