The word Business itself depicts something that is very formal. Attending a business conference or meeting a business associate, whatever the occasion may be, a proper 'dress code' is necessary for every professional. Many times, competent and hard-working people remain unnoticed just because they lack proper knowledge of dressing in the office of business workplaces.
Business casual is one such dress code, which sounds like a great comfort to ear. Casual that too in the workplace! Sounds great, right! But, What is Business casual? When your boss asks you to attend a meeting and the dress code is 'business casual', you may become confused about what to wear. Actually, the main problem is there is no appropriate standard definition of Business casual. One thing is transparent to all. It is neither casual like shorts and a t-shirt nor it is too formal like a suit. It is something in between.
What does a business casual mean?
Though the proper meaning of business casual is still modifying every day, it is simply wearing something professional but in a much-relaxed way, so that you can feel comfortable at your workplace.
Are jeans business casual? No.
Is a tie necessary for Business casual? The answer is again, NO.
So, you see, there are 'Do Wear,' even more, 'Don't Wear' in the business casual section.
Let us analyze and try to clear your doubts and confusion.
What is Business Casual for Men?
Tie, this long slim piece of cloth, makes a man profession by a simple 'Knot.' But business casual does not find it mandatory. Every office may have different views on the dressing, but there are certain common things in the list that will answer the very question, 'What is a business casual for me?'
Shirts-What Are the Basic Criteria?
Button-down shirts and full sleeves cotton shirts are most appropriate. Yes, it sounds formal, but when your boss allows this without a tie, it can be of great comfort. Some offices allow half sleeve shirts in the warmer weather. Whatever you are wearing, please make sure it is properly pressed.
Pants and Jeans
Though Jeans is a big no as business casual, some offices are allowing this nowadays. You can opt for Chinos, also known as Khakis. These are not as heavy as normal formal pants, but they maintain your professional standard. The next thing that you must remember in business casual dresses is the color. Try to pick up very neutral colors like grey, dark brown, black, and other dark-toned colors for your bottoms. Please avoid colors like Yellow or Orange because they are extremely unprofessional. The belt is an integral part of the formal dress code for men. Choose one with a neutral color that matches your pants.
Jackets and Blazers
Jackets and blazers are not among the business casual attire examples. But, carrying a blazer or jacket will, of course, make you look more professional. It is better to stick to single-colored blazers and jackets instead of those having bright colors and stripes.
A blazer enhances your professional gesture and it is the best Business casual for interview purposes. If you are insecure that you are not maintaining dress code essentials, a blazer or formal jacket can be good use at that time.
Woolens
Most offices are allowing woolens like sweaters nowadays. But, make sure the sweater is not that casual type. If you wear a finely knit, well-fitted sweater of sober color, you will find obviously among the casual men who maintain proper business casual outfits. The collar of your shirt should be outside the sweater and visible.
Footwear
Sneakers are a big no; so are the sandals. Formal footwear and loafers are the best examples of Business casual. Colors have a role to play here. Avoid bright colors and stick to soothing ones.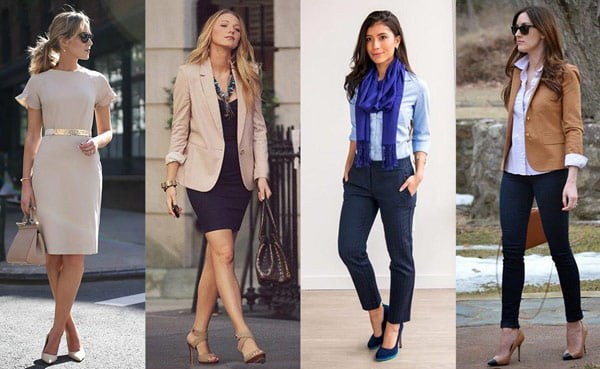 What is Business casual for women?
It is said that women have more dressing options than men do. But when it comes to a standard dress code, there are some basics that every businesswoman must have in her closet.
The Top-Wear
The most appropriate examples of business casual for women are button-downs and blouses. Though there is no specific criterion for this, the main thing is it should be neat and ironed properly. You should select solid colors over florals or designs to maintain a professional look.
The Bottom-Wear
Chinos and wide-legged pants are a part of Business casual. Whether you can wear jeans or not depends completely upon your office dress code policies. Some offices allow printed pants, but it is better to take a look or clarify with HR before wearing them.
Knee-length skirts and dresses are a part of Business casual. Make sure your dress is not too tightly fitted neither too dressy. In this case, you do not have too many restrictions on color selection.
Blazers
For both and women, blazers are classic wear and bring extra radiance in your professional identity. Blazers of black, blue, brown, grey are universal and are part of Business casual dressing. You can also opt for colorful blazers, but it should match with your outfit and should maintain versatility.
Footwear
There are no specific conditions for footwear. Business casual allows Stilettos, closed-toe heels, flats, loafers, and others to wear in the office. Sandals and sneakers, as mentioned earlier, are not entertained much in Business casual essentials.
What is business casual for an interview?
There is a very nice proverb in English. It goes like 'Seeing is believing'. The case of the interview is somewhat very similar. Before you convince your hiring manager with your skills, you can confidently go much closer to your dressing etiquette. There are certain things you should keep in mind when you are selecting a business casual for an interview.
The Dress Code Research
Before you decide your outfit for an interview, look at the company's dress code. You can observe the pictures of employees shared by the office on their website. In case you are unable to track, you can call the HR department directly to know about the dress code of the office.
Your role and position in the office have a lot to do with your outfit. If you are going for an interview for the corporate post, wear a formal outfit. Generally, for men, this implies a decent colored suit with tie and for the women, it is a well-fit suit-pant or skirt-suit whichever is applicable. For other positions, which are less formal, business casual is the best for interviews.
Though you can select a dress for an interview, there are certain 'never wear' on the list. Let us see what those are.
The 'never wear' in an interview
Never wear a flip-flop or a sports shoe in an interview.
Avoid a shirt with extremely low necklines.
Never wear a too-short dress. This can be measured easily. Place your hand straight by your side. If your dress is smaller than the end of your fingers, you definitely need to avoid the dress.
Wearing strong perfume or deodorant is a big no. Never wear a perfume that irritates your interviewer.
Shorts and tank tops with thin straps must be avoided.
Never wear a top that exposes your tummy.
Bright fluorescent colors may irritate your future boss. Be gentle about choosing your color.
You should never wear extremely tight attire. This will not only make impose a bad impression but will also create a problem for you in concentrating on the interview.
There is no appropriate definition in quotes if you ask 'What is a business casual'. But, if you do a research on different companies and if you have friends working there, you can have a generalized idea of this. It is not at all a casual thing and better explained as 'comfortable formals'. Before selecting attire for the interview, make sure you are maintaining the proper decorum from head to toe without any flaws. Impress your future boss with your outstanding outfit much before he knows your expertise in work. A good outfit and your skills will make your way to a bright future.