I personally love the process of listening to the birds, feeling the breeze and sipping a drink in the backyard (Patio) of my house. The only thing that ruined my enjoyment was my uncomfortable and old pathetic patio material.
So, I am looking to replace it with strong and durable patio pavers that go beyond just looking good. But more than that, I am also looking for something within my budget.
That's why I researched a lot and came up with a list of 20 cheap patio paver ideas. If you also want to remodel your patio and are looking for the same, it is worth reading the article till the end.
What are Patio Pavers
Before getting into the list of cheap patio paver ideas, let me show you what they actually are.
Patio pavers are paving stones made of cement, natural stone or brick. These stones are used as flooring in outdoor areas of the home, such as patios, walkways, driveways, fire pit surrounds, and pool decks.
They are the best ways to add the major glow-up and create the right ambience for outdoor spaces. The only thing you have to do is to choose the right patio paver that easily blends in with the surrounding environment.
Types of Patio Pavers
Clay Pavers
Cement Pavers
Porcelain
Natural Stone pavers
Concrete pavers
Cheap Patio Paver Ideas (Top 20 List)
Let me show you the 20 most beautiful, durable and budget-friendly patio paver ideas.
1. Natural Concrete Blocks
However you'll find a lot of cheap backyard paver ideas, but there is nothing that competes with these traditional natural concrete blocks. They are considered one of the most preferable and reasonable materials in backyard spaces.
Like sandstone, these blocks will also provide you with the perfect luxurious feel. Do you have some greenery in your backyard? If so, installing concrete blocks is one of the best things to do.
This is because concrete blocks with greenery create a lethal combination. The best thing about installing concrete brick in your patio is that it will become easier to manage everything from cleaning to block maintenance.
2. Aggregate Pavers
Round paver stones surrounded by pea gravel are known as aggregate pavers. The design will look like bubbles, small ones and big ones. They will look so satisfying to your eyes and also your guests.
The beautiful design doesn't mean it will cost you high. You can install them at a very minimal price. If you don't want to spend money installing these aggregate pavers, you can simply mix light gravel with concrete in round forms to create that effect.
However, most of people considered aggregate pavers one of the concrete patio ideas on a budget.
3. Recycled Bricks
If you want to keep an old-school look for your patio, recycled brick pavers are one of the best and most simple paver patio ideas. Being that old-looking design, they are one of the alluring designs for your backyard.
The best thing about these bricks is that you can set them in whichever pattern you want to according to your patio size and shape. You can install these recycled bricks at a very nominal cost.
Before installing them in your backyard, you can experiment with creating some unique designs.
4. Uneven Wide Blocks
Nowadays, people are madly in love with the uneven wide blocks installed on their patios. They are also one of the cheaper choices, especially for outdoor and lawn spaces.
If you're looking for something unique, there is nothing more compatible than these uneven wide blocks. Made from natural stone, these big blocks give a natural and raw look, creating one of the perfect patio ambiences.
One of the fascinating features of these uneven wide blocks is that you have the choice to explore the different shades and effects of your liking.
5. Sandstone design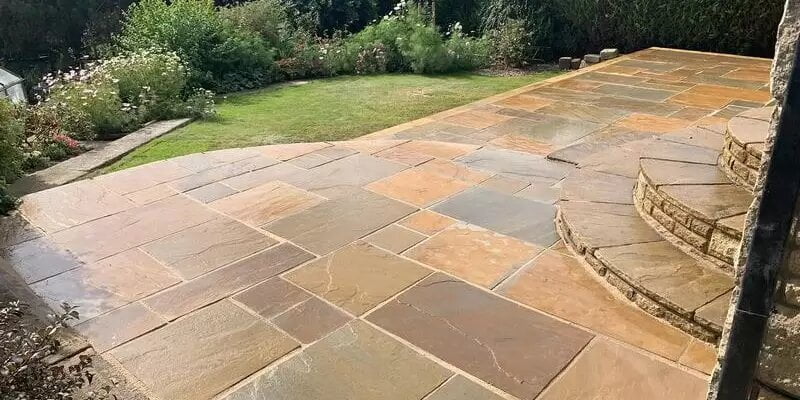 If you want to feel luxurious while sipping a drink in your backyard, you must consider installing the natural sandstone design. Due to its luxuriousness only, people are madly in love with sandstone design.
According to recent stats, it turns out that sandstone design has become one of the most appreciated cheap patio paver ideas. You can create a pattern of your liking. So if you have different choices, try experimenting.
However, if you want something that goes just beyond looking unique, you have to consider installing coloured sandstone patio ideas. So do not waste your time on other designs if you have the money and choice to install these sandstones.
6. Concrete pavers over Crushed Rock
Crushed rock is poured over the patio, and concrete pavers are installed on it. All concrete slabs will be of perfect square shape creating a fantastic symmetric design on your patio.
However, you can also add a fire pit of the same shape in the centre to create more ambience. The best thing you can do is paint the concrete slabs of your choice, suiting your style.
Suppose you painted the slabs in white, blue colour farmhouse wire lounge chairs will create a perfect combination. So sit on these lounge chairs with your friends or family members around the fire pit and get a fantastic night experience.
7. Red Bricks
Want to give an aesthetic and traditional feel to your patio? If so, you can go for natural red sand bricks. When placed correctly, there is nothing amazingly alluring than these bricks. If you ask me, they are one of the best and cheap patio paver ideas.
According to the experts, installing these red sand bricks can create a captivating ground piece for your backyard and lawn area. There is no space left while installing bricks. If anyhow space is left, you can add pebbles or stones inside them.
You can try experimenting with different designs of your choice with this material. However, you have the opportunity to explore different patterns, but make sure to choose the right one only that easily blends in with your background's environment.
8. Flagstone Pavers
Flagstone is the only material present in this list that can give you the perfect results you're looking for. These pavers can be your best choice if you're looking for something simple yet loud and extra-filtered.
However, natural Flagstones come in different styles and patterns, but you need to make a choice very wisely. You can also ask an expert which one will be perfect for your backyard.
So, go for Flagstone pavers without wasting time and create your desired ambience for your patio.
9. You can place patio pavers anywhere
The patio is not only about pouring cement. You can place patio pavers anywhere in your outdoor space. The best thing is that you don't need any expert to do the work.
You only have to dig up about two inches of soil, tamper down a layer of sand and place the patio pavers on it. Layering down the sand will keep the grass and concrete pavers on the same level.
You can also place pillars in every corner of the patio to create something like a shed to protect yourself from rain or direct sunlight. However, you can skip the shed part and simply put lighting on the poles to get a fantastic night experience.
10. Warm Bricks
Installing warm bricks will be your ideal choice if you have limited space in your backyard. These bricks are capable of creating an ambience even in a compact space. Warm bricks come in various styles and patterns.
Therefore, you have a lot of options to choose from. Apart from providing quality, these warm bricks are one of the cheap and easily manageable options. However, you can place these bricks at different angles to create a captivating and unique design.
So if you're looking for something perfect for your small backyard, there is no better option than warm bricks.
11. Versatile Interlocking Pavers
Pavers installed with gaps between them are versatile interlocking patio pavers. The openings can be filled with any other material. If you're really looking for something unique, these interlocking pavers can be your perfect choice.
Apart from their unique design and versatility, the pavers are easy to replace or repair. And the best thing is that you can create any conventional pattern of your choice with these pavers.
12. Tucson Saltillo design
Tucson Saltillo design is another one of the cheap patio paver ideas on the list. These are some tiles that can create a smooth impact on your backyard. These shiny tiles come in different styles that work perfectly with every type of patio.
Not only are these tiles smooth in nature and shiny in texture, but they are also easy to clean and maintain. However, the only drawback of these tiles is that you must brush them regularly to keep the shine and smoothness, unlike other stones.
So if you really want to enjoy your weekends in your smooth backyard area, you must choose these easy-to-maintain Tucson Saltillo tiles.
13. Fire Pit Patio
In the winter, a fire pit will create a warm and cosy environment in your outdoor area (Patio). However, this fire pit will light up your backyard completely when the sun goes down.
On summer nights, you can cook food on fire like melting marshmallows and nibble s'mores and enjoy your night. One warning I want to give you is to keep your children away from the fire because it can be dangerous.
If your patio has no fire pit, build one now and enjoy every night in your backyard next to the warmth of the fire.
14. Gravel Path
If you're a person with diabetes or any heart disease patient, a morning walk can be a great way to keep your sugar level normal and your heart healthy. A walkway in the outdoor space of your house is the best place to start your walk.
Does the outdoor space of your house have a walkway? Or have you spent much money putting in a walkway made of bluestone or cobbles? If it is the case, you can simply put gravel trails that won't hurt your pocket.
These gravels are one of the cheap patio paver ideas made of traditional path material in formal gardens throughout Asia and Europe. The best thing about these gravels is that they need a little skill to install.
So you don't need any professional to install them; you can do it yourself.
15. Stamped Concrete
If you're a concrete lover, stamped concrete is another best way to give a new look to your patio. However, pouring the concrete into your backyard doesn't mean it will look like an old-pathetic large block.
You can paint it with the colour of your choice or the colour matches your house to make it more appealing. It will also add a personal touch to this old-looking block. However, one more thing you can do is score the concrete with a template to make it look like tiles.
16. Irregularly Shaped Paving Stones
You can install irregular-shaped paving stones a little apart from each other on your patio. You can grow herbs in the space between stones. No, it will not look ugly. Yeah, it will give an old-school look.
But old is always gold. These paving stones can increase the value of your property. All you have to do is that these rough paving stones match the exterior of your house.
You can also add a wooden bench under the awning where you can sit and enjoy morning tea with your family.
17. Flagstone with poured concrete patio paver idea
Do you have ample outdoor space but have a smaller budget to complete its remodelling? Yes, you must consider flagstone and poured concrete patio paver ideas. This paver idea is capable of making a small space more entertaining.
The design looks like small flagstones installed apart from each other with concrete poured into the spaces. The combination of concrete and flagstones creates an appealing effect on your patio.
So if you're planning a small party in your backyard, this patio paver idea is going to impress your friends or family members.
18. Round Patio paver design
Patio pavers installed in a round shape with a fire pit in the centre are one of the best and cheap patio paver ideas. It will create a perfect appealing vibe on your patio. You have only to ensure that bricks have the same undertones as the home brick's facade.
You can place wooden chairs around the fire pit to enjoy every winter night with your family.
19. Gravels and Concrete pavers
Yeah, it is uneasy to walk barefoot on gravel. But it can give you perfect acupressure therapy. Therefore, install square-shaped concrete slabs in the patio slightly apart from each other and fill up the gaps with gravel.
You only have to make sure that there must be a subtle contrast between the colour of gravel and concrete pavers. For instance, the concrete slabs are of white shade; you can put gravel of light blue or blue-grey to create a contrast.
You can add a concrete table mimicking the blue-grey gravel in the centre and place wooden chairs around it. So, it will be a bad idea to have your morning tea sitting on the chair on gravel around the concrete table.
20. Rough Stone Tiles
Rough stone tiles are going to add warmth to your outdoor dining area. You can put some stringing lights across the pergola to add your desired ambience.
Last but not least, the best thing you can do is add low-growing plants to create a fresh-air environment around the patio. Therefore, without wasting any time, install rough stone tiles in your outdoor space to have a fantastic dining experience.
Benefits of installing Patio Pavers
Let's check out some benefits of installing patio pavers instead of any other material.
Increases the property value by up to a 70% return on investment
More durable than cement slabs.
Increase the visual appearance of your outdoor space
Inexpensive
Easy to maintain, repair and replace
Patio pavers can last over 50 years if they are installed correctly.
Frequently Asked Questions
1. What is the cheapest patio material?
Concrete or brick pavers are one of the cheapest patio materials to use.
2. What material can you use instead of concrete?
Many different types of materials in the market can be replaced with concrete. But if you ask me that one name, it will be gravel. It is one of the best alternatives to concrete.
3. Can I lay a patio without cement?
We can use sharp sand instead of pouring cement. Sharp sand can also hold as firm as cement. It still allows water to escape beneath. Compared to cement, it is easy to work with sharp sand.
4. What is the cheapest way to construct a patio?
One of the cheapest ways to build a patio is to fill the space with gravel and install a modest amount of concrete pavers or interlocking tiles.
5. How much does it cost to construct a 12×12 patio?
The average amount to construct a 12×12 ranges from $750 to $7200. It all depends on the material you're using.
Wrapping up
So here we got the list of the best cheap backyard patio paver ideas. If you want to go with the budget, there is nothing better option than pavers. From raising your property value to beautifying your outdoor space, there are a lot of benefits of patio pavers.
Therefore, if you're planning for a night out or a small bachelor party with your friends next month and looking to remodel your backyard area, make sure to read this article before making any decision. Keep following my website Wizard Journal for more exciting articles like this!